SPRING BREAK is a nomadic gallery that bridges the gap between curators looking for spaces and space-holders in search of programming. The current sponsor is Bas Fisher Invitational. Read all about the project on ARTLURKER.
This Tuesday (3/8), SPRING BREAK hosts a mini-extravaganza. Kicking off at 7:30PM will be Ballerz 2K10: Poems About The NBA, followed by a live music exhibition (9PM) featuring DINO FELIPE with special guests, TRAVIS JOHNSON + DAVID KIRBY [St. Augustine, FL / Marietta, GA]. Johnson and Kirby are solo electroacoustic soundscapers that embrace improvisation, idiosyncratic methodology and experimental gear. They will be performing in collaboration. Opening sets will come from two new-ish Miami post-rock projects: ECHOLALIA, a math rock band that augments furiously intricate jam-oriented compositions with swirling noise from circuit bent gadgets; and EYELASH, an infinitely looping minimalistic guitar project. Facebook RSVP.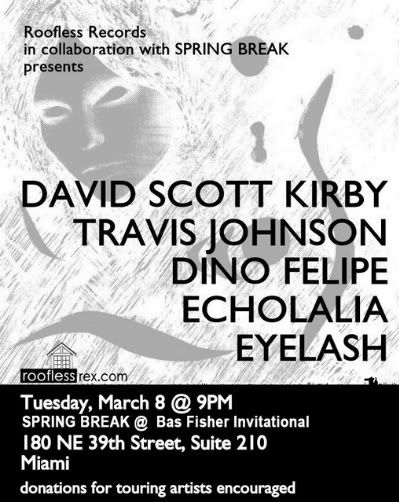 The backdrop for all of these festivities is the THE WHITE HOUSE, a large-scale installation created by THE PRESIDENT in tandem with the release of his new album, EXPERIENCE SOBRIETY (also available at SPRING BREAK, and soon to be available at Sweat and online through Roofless Records).
Excerpt from THE WHITE HOUSE