This Friday (12/10/10) Roofless Records teams up with newly-opened O Cinema to present CINEMA SOUNDS #7. The Cinema Sounds concept is simple: musicians provide a live score to a scene from a film of their choosing. Nothing beats the total audio-visual immersion of a loud band and the big screen, and this edition features some serious heavy hitters from the Miami rock music scene: BEINGS, Miami's newly knighted princes of meaty pop-shoegaze; COP CITY/CHILL PILLARS, Lake Worth's maestros of mongoloid post-punk; AXE AND THE OAK, incredibly tight rock and roll trio that may actually be the first "post-rockabilly" band; and BULLETPROOF TIGER, a 305 unit equal parts anthemic punk and intricate post-rock. Click here for the Facebook RSVP, here for Cinema Sounds on Crossfade, and check out some videos from past editions after the jump.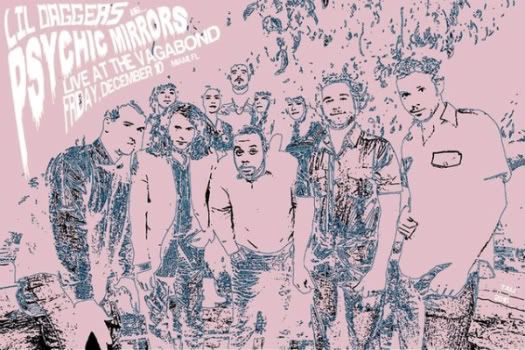 After Cinema Sounds, swing by The Vagabond for an extra special Friday featuring a live performance by Lil Daggers and the explosive debut of PSYCHIC MIRRORS, a 10-piece lazer soul / future funk super group brought to you by a ridiculous ensemble cast with members of every band ever (Kabuki Iron Colors, Lil Daggers, Capsule, Treesa, and the list goes on and on…don't get us started on the defunct groups…). ENTRY TO THE VAGABOND WILL BE $5 WITH YOUR CINEMA SOUNDS WRISTBAND.
Cinema Sounds videos after the jump!
Tyger Beat @ Cinema Sounds #1 (Burns Court Cinemas / Sarasota, FL)
Slashpine @ Cinema Sounds #6 (Tower Theatre / Miami, FL)
MORE VIDEOS HERE