Before we get to the records: Sweat is opening a South Florida-centric webstore and wants to carry your band's releases and merch. If you're interested in selling online through Sweat, drop a line to info(a)sweatrecordsmiami.com or swing by the store.
NEW LOCAL MUSIC
Beings – 'LKLL' b/w 'Metro Zoo' 7"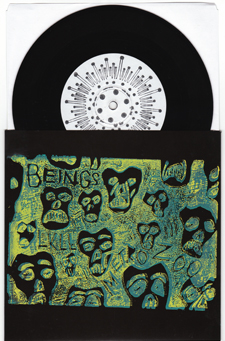 Discosoma's latest single is a 2010 best. Punk-gaze trio Beings have been making a ruckus all over town, from Churchill's to The Vagabond to Miami Art Museum, and their vinyl debut finally lets you harness the riffs and the reverb from the comfort of your own home entertainment system.
Partial People – S/T cassette
New tapes in from Gainesville label, Bored In The U.S.A. Pictured above is the debut release from Partial People (chunky psych-surf-punk) cassette, who are also featured on the new Bored In The U.S.A. sampler with pop-post-punkers St. Dad, Ex-Boogeyman and Post-Teens.
Surfer Blood – Floating Vibes 7"
This single is sold out from the label and features a Allen Bickle (Baroness) remix of Surfer Blood's "Twin Peaks."
More new music after the jump.
MORE NEW MUSIC
El Guincho – Pop Negro LP
Superchunk – Majesty Shredding LP
Belle and Sebastian – Write About Love LP
Ariel Pink – Before Today LP
Blonde Redhead – Penny Sparkle LP