This Tuesday (October 5), Sweat Records hosts BIRD NAMES, an ultra eclectic, high energy experimental pop, rock, and roll band from Athens, GA. Drawing a wide range of comparisons – from Ariel Pink to Os Mutantes and even Brian Eno – this duo strives to "approach music as radical play," and the variety of their sound, down to the infinite layers packed into each individual song, is confirmation they're having serious fun. They've got music from over the years up on their website.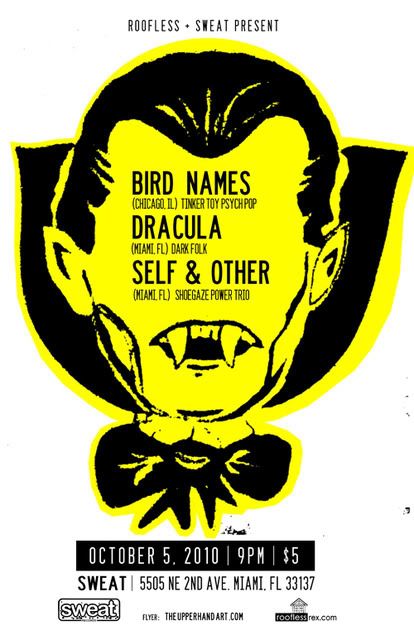 The openers are a pair of Miami-based acts of equal psychedelic inclination.
DRACULA features members of hip-hop ensemble Space Voodoo Crystal and the reclusive Softmonster, performing sparse, delicate, dark acoustic music. Drawing equally from British, Celtic-style pop (a la Vashti Bunyan) and Latin folk, the pair employ minimal means – one guitar, two voices – to forge a wholly immersive, haunting aesthetic. Check out this super lo-fi (and infinitely charming) live recording.
SELF & OTHER is a shoegaze/post-rock power trio featuring members of black metal quintet Slashpine. Through extended, old-school style jam sessions, the group hashes out swirling, climax-heavy anthems for post-Loveless jangle junkies hungry for their next fix of fuzzed out riffage.
Show starts at 9PM and costs $5.