The good people at Roofless Records have been throwing shows all over Miami lately and this Wednesday they're back at Sweat with three bands for three dollars.  Come out for Miami's own Melted Sunglasses and hahahelp! with touring guests synth-punk trio Thunderhole from Massachusetts!  More about them after the jump, RSVP here and see you Wednesday night.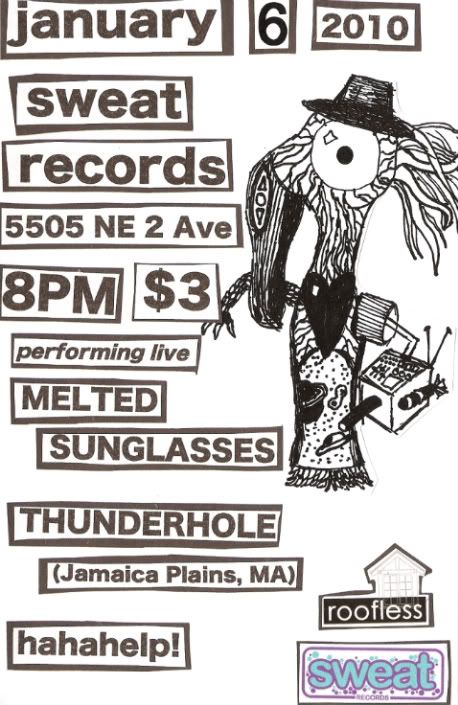 Heads up: the next Roofless in-store is Saturday, February 6th, bands TBA.
Curious? Read this review of a recent Thunderhole show:
Hailing from Massachusetts, the band's electro-tinged mix of keyboards, drums and guitar was supported heavily by distortion and feedback, bringing to mind traces of Gameboy music, Devo and noise rock. Taking the stage dressed in a red and black color scheme, the members of Thunderhole performed danceable and complex songs that were driven by repetitive keyboard and guitar riffs that seemed to fly screeching through the air, while anchored by steady, cymbal-heavy drums. The rich and multilayered sound of their instruments featured each part building on and complementing the others, creating a complex patchwork of noises that was easy to like.
Do it!