In case you missed our tweets about it yesterday…try not to scream out loud but French gods of electronic wonderfulness AIR are really, actually, truly coming down for a show in Miami, for the first time ever!!!!!!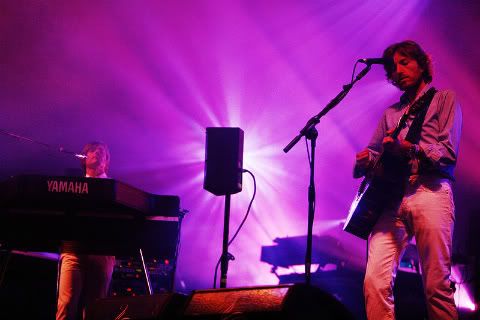 The always-amazing Rhythm Foundation are bringing them down Saturday, March 13th to the Fillmore Miami Beach.  Tickets go on sale Saturday morning at 10am so set those alarms!
If you've never heard of or heard AIR, time to get on it, especially if you like downtempo tunes that seamlessly blend electronic and organic.  Here are a few recommendations of tracks to check out:
Le Soleil Est Pres Des Moi – exquisitely perfect late-night chillness
ALL of Moon Safari – just do yourself a favor and get it, I've got friends into so many different genres but this is one of those albums that everyone can meet in the middle on.  It's so relaxing and lovely, I pretty much won't get on an airplane unless I've got this loaded onto my iPod.
Playground Love and The Word "Hurricane" from their sublime soundtrack to Virgin Suicides
10,000 Hz Legend was a bit darker but Electronic Performers and The Vagabond (featuring Beck) are not to be missed
Walkie Talkie and Pocket Symphony go hand-in-hand, check out Cherry Blossom Girl, Universal Traveler, Somewhere Between Waking and Sleeping, Napalm Love…
While you're at it, check out Charlotte Gainsbourg's 5:55 album which they produced, it's fantastic
We've got most of their catalog including their latest "Love 2" available at Sweat, come in and get some fresh AIR today!