For the last six years on Thanksgiving Eve, Miamians have gathered to pay homage to the most decadent decade at the ANNUAL '80s PROM! This year is the SEVENTH one and it promises to be the best Prom yet!  It's at The Vagabond on Wednesday night, RSVP here and read below to see what we've got in store for you…  Doors are at 10pm, it's $5 before midnight and $10 after!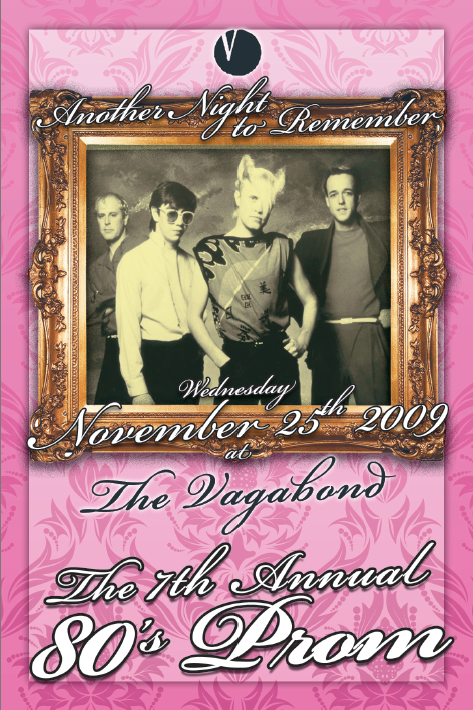 Started in 2003 back when I used to throw the weekly VICE '80s party at Soho Lounge, prom has continued to be a yearly theme party that South Florida looks forward to and dresses up to the max for!  Plus, Thanksgiving weekend means you'll always run into an old friend who's visiting from out of town.
This year, prom band THE STATE OF take the stage in the Main Ballroom at midnight with a full set of '80s covers! Expect Bangles, Madonna and more surprises…
Afterward, DJs RAY MILIAN + TOMMY GUNN play all your favorite new wave and dance hits
In the Bar Room, the superstar tag-team of HOTTPANTS + LAURA (OF MIAMI/WVUM) spin '80s booty, freestyle and guilty pleasures…
In the Garden, the amazing DEEJAY SMEEJAY will be playing the best '80s makeout music – and he should know because he partied through the whole decade!
PLUS, a very special performance by Debbie D's outrageous dance troupe DANCESTASY!!!!!!
All that and slow dances, elegant decorations, the infamous prom photo booth with pix courtesy of JIPSY (nefariousgirl.com) and $5 Prom Punch all night!
As we always say, dress sharp and tease your hair!!