FRIDAYS AT THE VAGABOND is proud to present a very special evening in celebration of the birthdays of two of our own – JSIN (Sweat Records) and resident DJ extraordinaire MIKE DEUCE!!
At midnight in the Main Room, Miami's own PANIC BOMBER will take the stage with a full-on audio-visual set of his high-energy dancefloor madness that combines electronic programming with live horns, vocals and interactive special effects.
Panic Bomber was voted "Best Electronic Artist" in Miami this year and if you haven't seen him live yet you are really missing out! You can download his whole debut EP for free at www.panicbomber.com but live is a whole other experience… He's also told us he's got some secret surprises in store for this Friday so this will definitely be a show not to miss!
And of course Deuce and the other Fridays residents – RAY MILIAN, YOURS TRULY, DANNY ASHE, CARMEL OPHIR, ALEX CASO + UVS – will keep all three rooms going until 5am with the best music of all time!
Free admission before 11 and $1 PBR and Rolling Rock until midnight. No dress code – come as you are!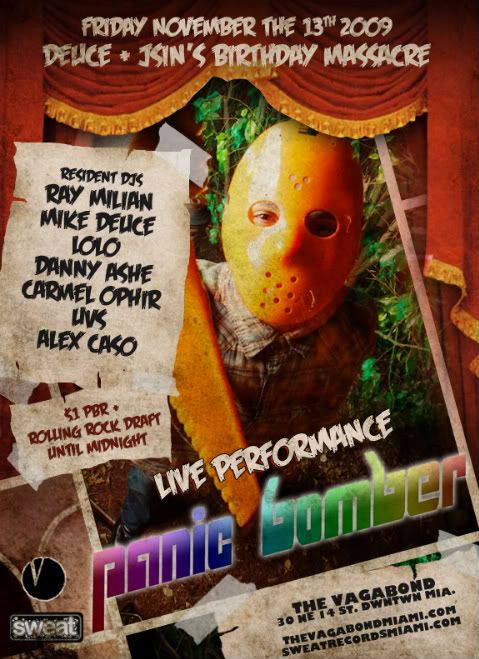 P.S. You can also enter to win places on the guest list by listening to Panic Bomber live on WVUM 90.5 fm this Thursday night at 7pm!