Summer Dubstep Conference is upon us! SKREAM, BENGA + MALA; three of the originators of dubstep in two nights. Tonight at the White Room, SKREAM + BENGA play back2back after JUAN BASSHEAD + DAMAGED GOODS warm up the crowd.
TONIGHT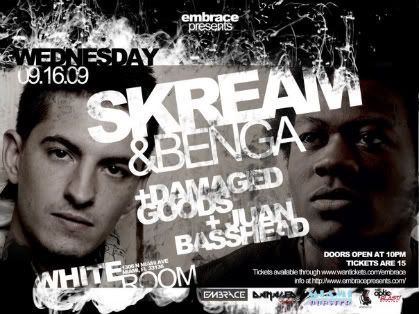 TOMORROW

Then, on Thursday we Get Low with MALA at The Vagabond! If you still haven't heard, GET LOW is the dubstep/Miami Bass party (((SHAKE))) throws every month. Here's video from the last one so you have an idea of the madness that goes down…

MALA is supported by Miami Dubstep DJ's JUAN BASSHEAD, OTTO VON SCHIRACH, GOODDROID, ASHWORTH + MC's JUMANJI + THE NOME. They'll be bringing you the newest sounds with the heaviest, dirtiest bass around. Miami New Times recently wrote about the impending dubstep takeover, and now is your chance to hear the best of the best in the business. Join the movement!