On Friday April 4th, 2008 The Vagabond joined with Sweat Records and invited everyone out for some indie rock and electro music, $1 beers, and dancing with Miami's finest people.  It's a year later now and we're proud to see Fridays at The Vagabond swell to a gathering of over a thousand people every week and what's regarded as the best indie dance party in South Florida.  Join us this Friday, May 15th as we also celebrate the Belated Birthday of The Vagabond itself.  This is the venue Miami's nightlife vagabonds needed, and we're so happy to call it home!
On hand to celebrate the occasion will be local indie band VAN*GLORIA!  This is their goodbye show before heading off on a national tour, so come wish them Bon Voyage!  Get a preview of their jazz-pop sound at http://vangloria.net and catch them in the Garden at midnight!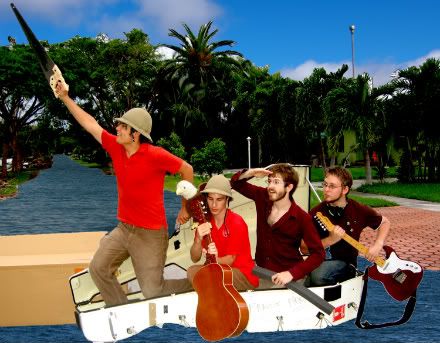 Then, in the Main Room we've brought in the PANIC BOMBER to blow out the candles on the Birthday cake!  He's back and ready to give The Vagabond a second dose of his avant-electronic-performance-techno-house-pop!  If you don't know what I'm talking about check the video:
He recently did an interview with Marcos Colon of CoolJunkie.com that you can read here.  This will be a show not to miss!
And of course our resident DJs Mike Deuce, Lolo, Ray Milian, Danny Ashe, Carmel Ophir, UVS + Chris Graham provide the indie/electro/classic soundtrack to your night of mayhem.
From 10 'til midnight Rolling Rock drafts and PBR cans are only a dollar!
We open the doors at 10 and if you get here before 11 there's no cover!
Come as you are.
The Vagabond
30 NE 14th St. Downtown Miami
www.thevagabondmiami.com
www.sweatrecordsmiami.com
www.offtheradarmusic.com
Next week we go national with YOUNG LOVE (NYC) + PAPER ROUTE (TN)