Tonight Daniel Reskin welcomes some of South Florida's funniest working comics!
In case you can't read the fine print that's John Wynn, Pam "Cooking Spray" Bruno, Sweat's own employee-of-the-month-every-month Ivan Hernandez, Oni Perez, Freddy Stebbins (host of the weekly Laughs on the Mile Wednesdays at John Martin's), Richy "Bunsen Honeydew" Lala, the lovely Jessica Gross, Patrick Schroeder, Sir Adrian Mesa (or Sebastian Turquoise or whichever shade of blue he'll be calling himself tonight), lost Metalocalypse member Matt Zigan, Will Lopez and Drew Spears!  Come out tonight to see them all make the funny.
It starts at 8.30, is FREE, and couldn't we all use a little ha-ha?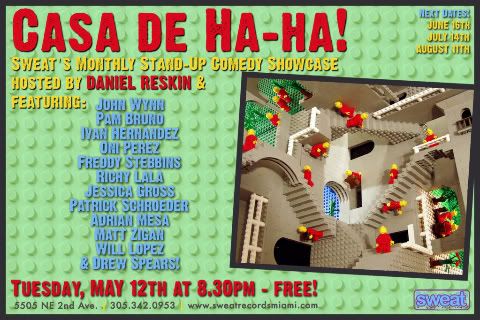 P.S. Daniel is going to start posting giggle-worthy tidbits on the Sweat blog soon!