☆ Sweat Records presents a visual guide to 04/27-05/01 ☆

Tonight at Sweat we've got an encore screening of "CLOSING TIME" by local filmmaker Tony Kapel.  It features Miami art- and music-makers the TM Sisters, Jesse Jackson, Jen Stark, Manny Prieres, Rachel Goodrich and more.  The screening is FREE and starts at 8pm.
Tuesday is PSYCHIC TUESDAYS at Bella Rose.  Now in it's 4th month, this underground dance party is truly worth checking out for music you swoon over but just won't hear anywhere else (outside of your bedroom).  There's also no cover and 2-for-1 drinks all night so if you too feel the need to bop and sway and goth dance to classic new wave, post-punk, industrial, and other dark favorites, this is definitely the place.  Join their Facebook group to stay in touch.
Also on Tuesday, if you like colors other than black, miss Pamela Wasabi (aka Miami's own Rainbow Brite) will be hosting the COSPLAY WASABI FASHION PARTY at Sushi Samba on Lincoln Road.  This month's color theme is BLUE so wear your wildest blue outfit as there's a cash prize for the best costume.  11pm to 4am.
Wednesday evening up in West Palm Beach, SUNFEST kicks off with performances by Wavves, The Mae Shi, The Spam Allstars, Kinky and more!  The festival goes through the weekend (Cold War Kids Saturday night!) and the full info can be found here.
Wednesday at Off The Radar at The Standard, our old friend DJ SAUL (HIMSELF) is back visiting from China and will be doing a special guest DJ set!  Lords knows what kind of music he picked up out there but don't worry as his tunes always rock a party.  8pm to midnight and parking is reduced w/ validation inside.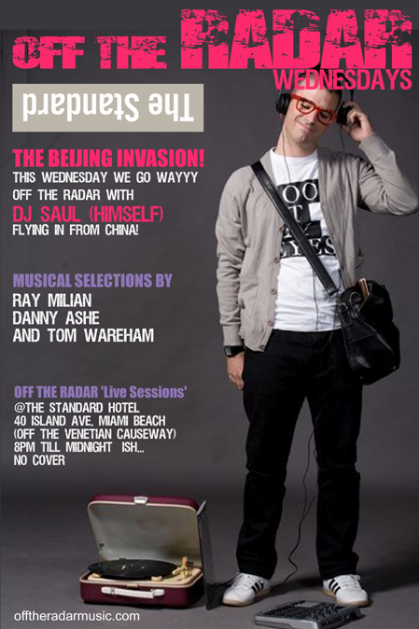 Thursday night at (((SHAKE))) at The Vagabond is a yearly theme party all of Miami's been waiting for…  QUINCES NUMERO DOS!  This year's entertainment includes superstar DJs Doormouse, Alex Caso and Induce with live performances by Jose El Rey and Afrobeta,  plus food, cake and more sorpresas.  You can RSVP to shake305@gmail.com and don't forget to dress for to impress…
This Friday at The Vagabond, we've got a very special event as it's the official album release party show for AWESOME NEW REPUBLIC!  More on that tomorrow…
Also Friday at GOO, there's the opening for a homegrown art show called "The World That Summer" with live performances by Eli & Gyr and the Diet Cokeheads.  Goo is right by Sweat so swing by the store and check out our flier area for more of what's up!
Have a great week!