Yesterday morning I woke up early and went down to Coconut Grove for this month's Bike Miami. It takes a lot to get me out of bed on my only day off but it was so worth it! Bike Miami isn't a race or a ride, it's just a giant free block party with all the blocks closed off to cars so you can tool around and "explore your city in a new way."  I don't have a bike but I rented one for free at the event and walked around a lot too as it was a beautiful day.
The meeting point was at Peacock Park and most of the main streets were car-free and just so nice to ride on without the fear of being flattened by a SUV driver in the middle of a heated cell phone conversation.  The mayor, police chief, and tons of city people were there, plus tons of families, spandex cyclists, "fixies", rollerbladers, skateboarders, runners, and everyone else you can think of. Honor Roll Music hosted the stage at the park with performances by ANR and Airship Rocketship. There was also a huge contingency there in orange representing the Netherlands Consulate – the Dutch practically are born bicycling so they're all about supporting bike culture in Miami. Great pics are up here: Coconut Grove Grapevine
If you haven't heard, Bike Miami Days are part of the city's new initiatives to promote bicycle-oriented events, add more bike lanes, and to generally make the city more bike-friendly, which it should be as it's so goddamn gorgeous down here all year round.  Props to Kathryn Moore and Collin Worth for making all this happen.
The whole day was inspiring. I'm now on the lookout for a sweet, two-wheeled ride of my own so I can represent at all the future Bike Miami Days, the next one being Downtown on Sunday, May 17th.  Purple-and-turquoise Sweat bike crew anyone??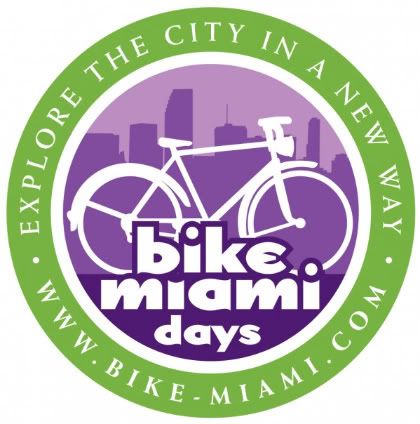 P.S. More bike lanes are indeed in the works, but in the meantime, don't you want one of these?