Hey local (visual) artists!
The Friends of Miami Marine Stadium group has out a call for entries to design a new logo for their cause.  The Marine Stadium on Virginia Key is a gorgeous historical/architectural landmark – in the '60s it was used for powerboat races, symphonies and concerts (The Who played there on a floating stage!) and the FMMS is working to restore the stadium and make it a usable venue once again.
Anyone can enter.  The winner gets $250, plus the satisfaction of branding a big cause.  One of the judges is a graphic artist who's illustrated comic books for Marvel and DC Comics.  Neat-o!  The deadline is May 2nd so bust our your pens/paper/photoshops and get at it.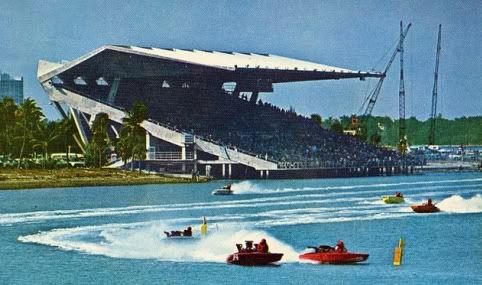 (an illustration of the stadium back in the day)