Dear Friends,
Our new website is so close we can taste it!! We're almost done building it but we'd like to ask y'all for 2 things: 1) If you have any pictures from events or parties at any of the Sweat locations we'd love to include them!! We're not the best archivists so we've got some but we'd really love if you radical Sweat fans could dig through your hard drives and send any pics you find to info@sweatrecordsmiami.com. Thanks mucho in advance!! 2) If any local businesses out there are interested in purchasing totally reasonably-priced ad banners that directly support Miami's best record shop, organic coffee house and all-ages event space, by all means be in touch!!
Also new at Sweat: RECORDS GALORE!! We recently bought a massive collection off an ex-DJ who specialized in freestyle and dance so if you're into that come dig through our crates… Plus, tons of amazing new LPs like Animal Collective (finally!), Beirut, Morrissey, 4AD's incredible "Dark Was The Night" compilation and so much more.
Tonight: FRIDAYS AT THE VAGABOND welcomes a super special national act – college radio favorites and video game soundtrackers extraordinaire FREEZEPOP!! They'll be taking the stage in the main room at midnight, and before that we've got the WVUM DJs throwing down some of the best new music!! Click the flier to rock out at Freezepop's myspace: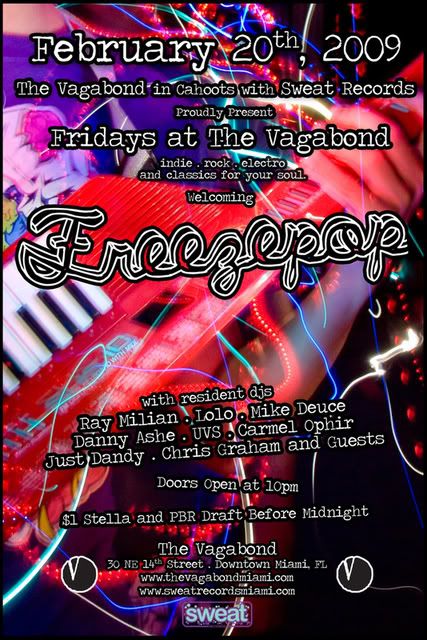 Saturday at the shop, we've got a cool cultural event… The Open Tent presents a live performance by NYC music/comedy duo GOOD FOR THE JEWS!! Also appearing will be Miami alterna-Jews RAVELSTEIN, JESSICA GROSS, and Casa De Ha-Ha host DANIEL RESKIN!! Advance tickets are available at the fair-trade ticketing site (!) brownpapertickets.com and they're only 5 bucks if you enter in code "schvitz" (that's "sweat" in Yiddish).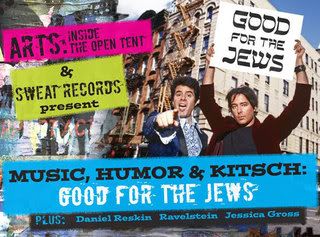 Coming up next week: Local noisemaker Dino Felipe's Birthday Bash at PSYCHIC TUESDAYS, The Beauvilles live at The Vagabond, and MORRISSEY at Mizner Park!!!!!!
Much love,
Lolo, Jsin and the Sweat crew
P.S. Thanks to everyone who came out to our last-minute instore last Sunday with Tommy Jay, The Jacuzzi Boys, Electric Bunnies and Melted Sunglasses!! Read a rad article about Tommy and Miami's "great crop of promising new bands" at Victim Of Time.
P.P.S. Hey students! If you go to FIU, MDC, UM or AI, keep an eye out next week for the new issue of BACKSLASH MAGAZINE featuring an article on Sweat Records!! This is the third issue of this college-centric lifestyle mag and the last 2 issues are available on their website, www.backslashonline.com