Hey Friends,
Thanks to everyone who showed up for the Sticky Fingers Cupcake Party last week at Circa28!!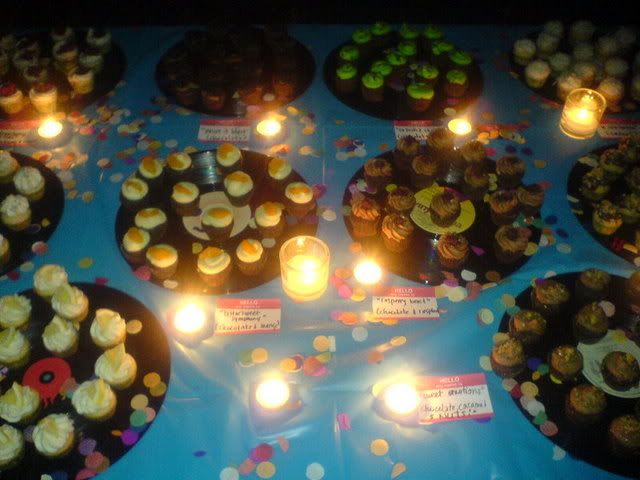 It was good times and for future reference if you want to order yummy cupcakes for your own party hit up www.myspace.com/stickyfingerscupcakes

Awesome things have been happening in Miami… The Dick Dale show was beyond great: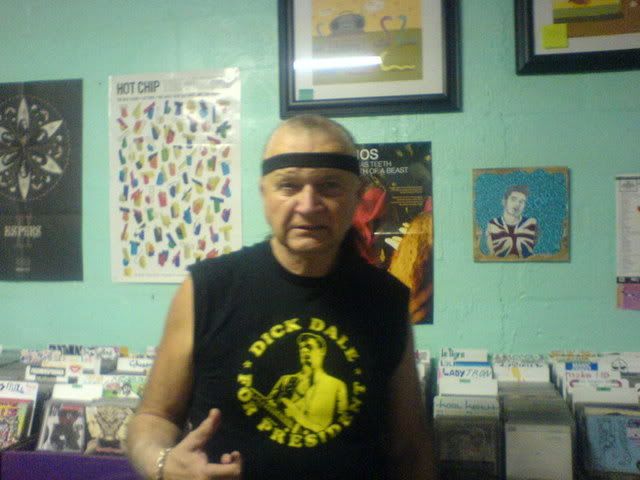 International Noise Conference was fun and noisy… and now Sweat is proud to announce TWO big new shows we're bringing you!!
MONDAY, MARCH 19th @ Studio A: Sweat Records and FLM present EL-P (Def Jux) live!! The boundary-pushing hip-hop pioneer (Company Flow!!) has a new album that's about to drop. He'll be performing with a live band so expect the unexpected!!
and…
THURSDAY, MARCH 22nd @ Churchill's: THE PRESETS (Modular) live!! The Presets are from Australia and they were so good when they were here last year that we jumped at the chance to book them again. They've opened for The Raptue, Hot Chip and Ladytron and their heavy electronic sound will rock fans of Daft Punk, The Faint, New Order and Nine Inch Nails!!
Full details on both shows soon, plus check out all the crazy good South Florida shows just added below (including Ted Leo, Clap Your Hands Say Yeah, Lily Allen and THE FLAMING LIPS!!!!). Mark your calendars!!
Cheers,
Lolo + the Sweat crew
__
THIS JUST IN:
-Bobby Conn "King for a Day" (YES!! A Sweat all-time favorite, Bobby Conn rules!!)
-Arab Strap "Ten Years of Tears"
-Trans Am "Sex Change"
-The Black Lips "Los Valientes Del Mundo Nuevo"
-Explosions in the Sky "All of a Sudden I Miss Everyone"
-Pop Levi "Return To Form Black Magick Party"
-Jesu "Conqueror"
-Calla "Strength in Numbers"
-Jill Cunniff "City Beach" (ex-frontwoman of Luscious Jackson!!)
-K-Os "Atlantis: Hymns for Disco"
-Menomena "Friend & Foe"
-Minus The Bear "Interpretaciones Del Oso"
-The Polyphonic Spree "Wait" EP
-The Rakes "Remixes" EP
-Laibach "Volk"
-Autumn Defense "The Autumn Defense" (Wilco side-project!!)
-Luke Slater "Fabriclive 32"
-The Rasmus "Intro" EP
-High Llamas "Can Cladders"
-David Lynch "Eraserhead OST"
-The Frames "Cost"
-The Boredoms "Super Roots 6 + 7"
-Bob & Gene "If This World Were Mine…" (new on Daptone Records!!)
-Fu Manchu "We Must Obey"
-Aqueduct "Or Give Me Death"
-Disinfo.con DVD
-Plastilina Mosh "Tasty" DVD
-The Queers "The Queers are Here" DVD
-The Make-Up "In Film/On Video" DVD
-Talking Heads "Stop Making Sense" DVD
-The Verve "This Is Music: Singles" DVD
__
CURRENT TICKET PRESALES:
-LANGERADO, March 9th-11th @ Markham Park, ($60/day or $135 for all 3)
__
UPCOMING EVENT GOODNESS LIKE WHAAAT:
(If your event is not in here send one email to lolo@sweatrecordsmiami.com with all the info.)
THROUGH SATURDAY, MARCH 10th @ TATE'S: Tate's Comics and their brand new Bear and Bird Boutique + Gallery present FOR THE LOVE OF MUNNY!! Yes, you remember Munny, the blank little monkey you can customize to your heart's desire… Well over 200 custom-painted Munnies are on display and for sale, with part of the proceeds going toward the Humane Society of Broward County. Stop in and check 'em out (I made one too, just look for the sparkliest one you can find…). Tate's Comics, 4566 N University Drive, Lauderhill, 33351. www.tatescomics.com
THURSDAY, FEBRUARY 22nd @ CIRCA28: Spiderpussy moves to Circa28 and celebrates with a live performance by CASSETTE (myspace.com/cassettemiami), plus DJ sets by Dakota Brody, The 411 DJs, Ray Milian, Quita, and more. 2826 N Miami Ave. clubspiderpussy.com
FRIDAY, FEBRUARY 23rd @ DELUXE ARTS: Schematic Music Company in collaboration with ISAW present "BASCHET: The Transfiguration of Daily Life" – a film by Eric Marin about the French Baschet brothers who created unusual sound sculptures and musical instruments. Deluxe Arts, 2051 NW 2nd Ave. 305.858.7735
FRIDAY, FEBRUARY 23rd @ PS14: It's the 2nd anniversary of OFF THE RADAR!! That's right, OTR has been bringing you cutting-edge new music since 2005!! For their anniversary, they've brought down Tigercity from NY (myspace.com/tigercity) and hometown boys Modernage will be backing 'em up. Resident DJs Ray Milian, Danny Ashe, Dakota Brody, and Matt Cash provide the soundtrack, plus live silk-screening by FACTION!! Come out and celebrate… Doors at 10pm, $10 cover. 28 NE 14th St. myspace.com/off_the_radar
FRIDAY, FEBRUARY 23rd @ MAGUIRES: Low-Fidelity Productions present the 2nd Annual SOCK HOP Dance Party!! DJs Mike Hooker and Scotty Upton will be spinning '50s favorites. Dress your '50s best!! No cover, doors at 10pm. 535 N Andrews Ave. Ft. Lauderdale. 954.764.4453 for info. www.lowfidelityevents.com
SATURDAY, FEBRUARY 24th @ CIRCA28: Circa Saturdays presents special guest DJ sets by EGG FOO YOUNG + RUDY MUNGI!! Upstairs, DJs Ray Milian, Lolo, Parker and Johnnylove rock the dancefloor. 10pm, drink specials all night, no cover. 2826 N Miami Ave. myspace.com/circasaturdays
SATURDAY, FEBRUARY 24th @ CHURCHILL'S: It's J's birthday show!! J is the awesome sound guy and booking agent for Churchill's and the local scene is coming out to wish him a happy birthday. Expect live performances by Boy Prostitute, Dyslexic Postcards, The Remnants, Laundry Room Squelchers, Peasants With Feathers, The Jean Marie, Stay Hitt, Mike Barnhill, AKA, Disco Satan, High Yellow, Outre Violet, Mr. Alvarez, Black People, Mister Pink and Aboyrobot. 8pm, 5501 NE 2nd Ave. www.churchillspub.com
SATURDAY, FEBRUARY 24th @ PS14: Switch presents live performances by INNER CITY BONFIRE, Squares Vs America, Vizeral and Lindsaybell, plus DJs and more. 28 NE 14th St. www.ps14.com
SUNDAY, FEBRUARY 25th, 2007 @ THE CARNIVAL CENTER FOR THE PERFORMING ARTS: SIGUR ROS perform "Ba Ba Ti Ki Di Do" live with the Merce Cunningham Dance Company!! 7.30pm. www.miamipac.org
SUNDAY, FEBRUARY 25th @ REVOLUTION: THE ROOTS perform live!! Need we say more? 200 W. Broward Blvd, Ft. Lauderdale. www.jointherevolution.net
TUESDAY, FEBRUARY 27th @ GOLD COAST ROLLER RINK: DJ Hottpants and Lolo present ROLL OUT at Rainbow Sk8, an awesome mixed/gay skate night where all are welcome!! Get your skate on or just chill to your favorite indie, 80s, disco, electro and all-around fun tracks. Plus: snack bar, booze bar, old-skool arcade games, neon decor, kitschy visuals, smoke machines and laser rays and good times. 8pm to midnight, $3 cover. 2604 S. Federal Hwy. Ft. Lauderdale. myspace.com/rainbowsk8tuesdays
THURSDAY, MARCH 1st @ NORTH BEACH BANDSHELL: The Rhythm Foundation presents JORGE DREXLER live!! Tickers are $20 in advance, 7pm. 7275 Collins Ave. Miami Beach. www.rhythmfoundation.com
SATURDAY, MARCH 3rd @ CIRCA28: Sweat Records, Circa Saturdays and Astralwerks are extremely happy to present the CD release party for "Pocket Symphony" – the new album by revered French band AIR!! Hear the whole album before it's out and enter to win a copy!! Doors at 10pm, 2826 N. Miami Ave. www.myspace.com/circasaturdays
SATURDAY, MARCH 3rd @ LUMONICS: Spend 'An Evening At Lumonics'!! It's a rad art space/light museum in Ft. Lauderdale with all kinds of funky light sculptures, visual projections, music and more. They're having their first event of the new year and you're invited! 8pm to 11pm, entrance by donation. Tanner Studios/Lumonics, 3019 NW 60th St. Ft. Lauderdale. www.lumonics.net
SATURDAY, MARCH 3rd @ PS14: Switch presents live performances by Dance Jenny, South of Fifth and Paper Treason, plus rotating DJs and more. 28 NE 14th St.
FRIDAY, SATURDAY, SUNDAY MARCH 9th, 10th, 11th @ MARKHAM PARK: LANGERADO – South Florida's most eclectic music festival – returns!! This year the event stretches over 3 days and will feature live performances by Explosions In The Sky, Girl Talk, Medeski Martin & Wood, Cat Power & Dirty Delta Blues, My Morning Jacket, The New Pornographers, Stephen Malkmus (Pavement) & The Jicks, Cut Chemist, The Hold Steady, Matisyahu, Blackalicious, Sharon Jones and the Dap-Kings (who are amazing!!), Soulive, Jake Shimabukuro, Kieren Hebden (Four Tet) with Steve Reid, a ton of jam bands and so much more!! Sweat will be selling tickets soon, so keep reading!! Markham Park is located at 16001 W State Road 84, Sunrise. www.langerado.com
FRIDAY, MARCH 9th @ LAUNDRY BAR: Come on out and wish a big feliz cumpleanos to Mr. OTTO VON SCHIRACH!! He's been making the Miami music scene proud for years so get out tonight and give the man some props. Featuring live sets by Otto himself, Pimp Queetoe (Otto + Doormouse + Baseck), SkyMall, Yarlen + Andi Metro, plus DJs Baseck, Doormouse, Burn, Wreck, Karakter and MC Mad. NO COVER!! 11pm, 721 N. Lincoln Lane. Miami Beach. www.laundrybarmiami.com
SATURDAY, MARCH 10th @ PS14: "State of the Art" presents live performances by ArtOfficial, Seven Star and Highrise, plus DJs Stravinsky, Salami Fingaz, Par and Stell*r and giveaways courtesy of Culture Kings. Doors at 10pm, $7 cover.
FRIDAY, MARCH 16th @ STUDIO A: It's Miaminights.com one year anniversary!! To celebrate, they're bringing Aaron LaCrate (NYC/Baltimore, Milkcrate Records) to Revolver. More details TBA. 60 NE 11th St. www.miaminights.com
SATURDAY, MARCH 17th @ PS14: It's MiamiMusicGuide.com's one year anniversary!! Check out a live performance by webmaster Matt's group Inner City Bonfire. 28 NE 14th St. www.miamimusicguide.com
SATURDAY, MARCH 17th @ NORTH BEACH BANDSHELL: The Rhythm Foundation presents ATERCIOPELADOS live!! 7pm, $20 in advance. 7275 Collins Ave. Miami Beach. www.rhythmfoundation.com
MONDAY, MARCH 19th @ STUDIO A: Sweat Records and FLM present EL-P (Def Jux) live!! Details TBA. 18+, 60 NE 11th St. www.studioamiami.com
MONDAY, MARCH 19th @ BANKUNITED CENTER (UM): Fantasma presents SNOW PATROL live. 7pm, $30. 1245 Dauer Drive, Coral Gables. www.fantasma.com
TUESDAY, MARCH 20th @ CULTURE ROOM: LILY ALLEN live!! Tickets $18 via ticketmaster or $20 at the door. 7.30pm, 3045 N. Federal Hwy. www.cultureroom.net
THURSDAY, MARCH 22nd @ CHURCHILL'S: Sweat Records presents THE PRESETS live!! Details TBA. 18+, $8. 5501 NE 2nd Ave. www.myspace.com/sweatrecords
FRIDAY, MARCH 23rd @ STUDIO A: FIXED Miami featuring JUSTICE, Digitalism (live), Boys Noize, Para One, Sebastian, DJ Mehdi, Busy P, JDH and Dave P. 21+, $20, 9pm to 5am. 60 NE 11th St. www.studioamiami.com
SATURDAY, MARCH 24th @ STUDIO A: It's a DOWNTOWN RIOT! Check out MSTRKRFT, Tommie Sunshine, Princess Superstar, Chromeo (DJ set), Lazaro Casanova, Conway and more TBA presented by Future Miami. 10pm, $20. 60 NE 11th St. www.studioamiami.com
SATURDAY, MARCH 24th @ POST: PopLife presents a live performance by the JUNIOR BOYS (Domino) with guests TBA. 1777 SW 3rd Ave. www.epoplife.com
FRIDAY, MARCH 30th @ STUDIO A: PopLife presents a live performance by OF MONTREAL (Polyvinyl) with special guests Lonely, Dear (Sub Pop) and PIgeon John. 60 NE 11th St. www.studioamiami.com
SATURDAY, MARCH 31st @ CIRCA28: Sweat Records and Circa Saturdays present a lie performance by VELVETEEN PINK!! If you missed their awesome set at the Plug Miami party, this is your chance to catch one of the best up-and-coming bands out there. Recommended if you like Hall & Oates, Chromeo, and funky synthesizer soul!! Plus resident DJs Parker, Ray Milian, Johnnylove and Lolo keep you dancing all night long (all night). Doors at 10pm, no cover. 2826 N Miami Ave. www.myspace.com/circasaturdays
MONDAY, APRIL 2nd @ STUDIO A: TED LEO & THE PHARMACISTS live!! With Love of Diagrams. 8pm, $12. 60 NE 11th St. www.studioamiami.com
FRIDAY, APRIL 5th @ STUDIO A: VNV NATION live at Studio A. Doors at 7pm, tickets $20. 60 NE 11th St. www.studioamiami.com
TUESDAY, APRIL 10th @ CULTURE ROOM: TV ON THE RADIO live!! With Blood Brothers, The Noisettes and Celebration. Doors at 8pm, $16 tickets via ticketmaster or $18 at the door. On sale soon… 3045 N Federal Hwy. www.cultureroom.net
FRIDAY, APRIL 13th @ POMPANO BEACH AMPITHEATER: Fantasma presents THE FLAMING LIPS live!! Tickets are $36 through Ticketmaster. 8pm, 1806 NE 6th St. Pompano Beach. www.fantasma.com
THURSDAY, APRIL 19th @ HARD ROCK LIVE ARENA: Fantasma presents THE KILLERS live. 8pm, $30-$40. 1 Seminole Way, Hollywood. www.fantasma.com
SUNDAY, APRIL 22nd @ REVOLUTION: CLAP YOUR HANDS SAY YEAH live!! With guests Elvis Perkins in Dearland. 200 W. Broward Blvd, Ft. Lauderdale. www.jointherevolution.net
__
Sweat Records
(inside Churchill's Pub)
6pm to Midnight, 7 Days a Week
5501 NE 2nd Ave.
Miami, FL 33137
Ph: 305.758.5862 ext.5
Fax: 305.758.4481
sweatrecordsmiami.blogspot.com
www.sweatrecordsmiami.com